Gaudi Tours Barcelona
If you are visiting Barcelona, you will inevitably visit Gaudi's works during your stay in the city.  Barcelona and Gaudi is a unique and eternal union.  Gaudi was one of Barcelona's greatest modernist architects and his unique architectural style is highly respected throughout the world for his innovative design of the time and type of construction. Truly GAUDÍ was ahead of his time, and Barcelona was home to the vast majority of his works.
---
Explore GAUDÍ's works inside or out, learn about history and architecture by getting to know the best kept secrets from our guides.
We have compiled a list of different Gaudi tours available in Barcelona below.
Types of Gaudi Barcelona tours
Full day Gaudí Tour
The Sagrada Familia and La Pedrera are on every tourist's list, but what about Gaudi's other creations? For those who want to learn about Gaudi's works, history and architecture, we present the Barcelona Gaudi Day Tour. This tour presents all of Gaudi's designs in Barcelona.
---
Gaudi Tour on your own
If you like to move around on your own, you can hire our GAUDI PACK, with the TOURIST BUS to get to any place, the classic entrances to the Sagrada Familia, Guell Park and La Pedrera. To make things easier, we have even included a map and metro information.
Half day Gaudi Tour
Barcelona is known as the capital of Modernism and the place where the famous architect Antoni Gaudi worked and lived. Gaudi, one of the greatest innovators of his time, has left numerous treasures for the discerning tourist to discover in Barcelona. We will take you to the Sagrada Familia Basilica, Gaudi's unfinished masterpiece and Barcelona's most emblematic monument. Next, you will discover Gaudi's bizarre Park Güell, a UNESCO World Heritage Site. A public park with a perfect integration of the architectural elements with nature.
---
Combined Gaudí Tours
In the full day tours, we can combine Gaudi's famous attractions with an authentic visit of Barcelona, such as the Boqueria, or the Montjuic Mountain, for fantastic views of the city.
Type of Gaudi Tours by attraction
Gaudi spent years thinking about his designs and many of these tours explain the processes he went through and the influences he had to create such unique designs.
Tours Sagrada Familia
The Sagrada Familia in Barcelona is unique in the world, and this attraction would justify a visit to the city of Barcelona. We can organize the visit of the Sagrada Familia as we wish
Sagrada Familia: no queue at the ticket office
Sagrada Familia and Park Güell Tour: Combine two of Gaudí's greatest and most impressive works in one tour. Explore Park Güell and Sagrada Familia with an expert guide.
Sagrada Familia and La Pedrera: You will visit the iconic Sagrada Familia and then head to La Pedrera, as Casa Milà is popularly known, a modernist building located on Paseo de Gracia in Barcelona, the work of the genius Antonio Gaudí, who built it between 1906 and 1912. The reason for this nickname is its particular facade, which resembles a stone quarry, with impossible shapes and curves.
---
Casa Batlló Experience: Discover Casa Batlló, declared a World Heritage Site by UNESCO. The cultural proposal is complemented by a most avant-garde and creative proposal, as it uses binaural sound, motion sensors, impossible volumetric projections and unique immersive spaces with which indifference has no place.
Tours Park Güell
Park Güell is also another emblem of Barcelona and Gaudí. It offers spectacular views of Barcelona. We can combine the visit of Park Güell with Colonia Güell, a 19th century industrial neighborhood created by Gaudí, with a spectacular Crypt, precursor of the Sagrada Familia.
---
Park Güell
Park Güell and Colonia Güell
Park Güell and the Sagrada Familia
Park Güell and Casa Vicens
CHOOSE ONE OF OUR BARCELONA TOURS
Gaudi's Emblematic Sites is one of the most popular day trip from Barcelona.. Find the best option. Here we explain the different options, to decide the best option.
GET TO KNOW GAUDÍ'S MONUMENTS IN BARCELONA
Gaudi's landmarks in Barcelona. Find on the map the best places that represent Gaudí's art.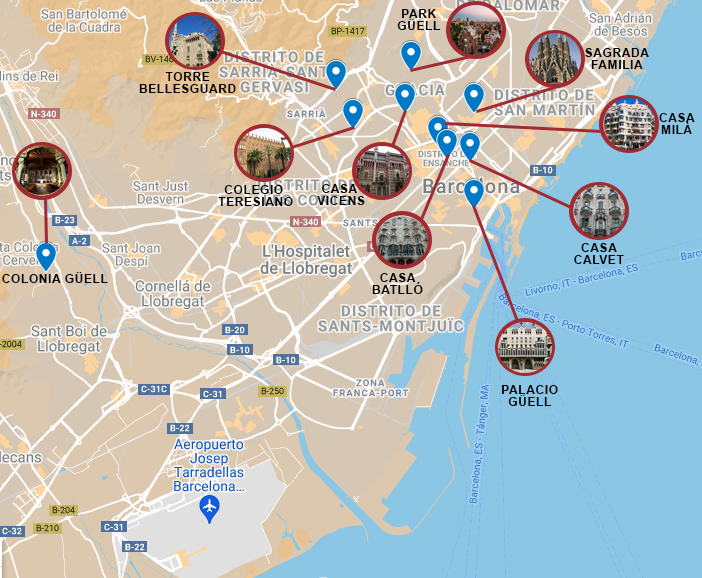 6. Casa Vicens
7. Casa Calvet
8. Casa Batlló
9. Colonia Güell
10. Palacio Güell
QUESTIONS AND ANSWERS GAUDI TOURS
What we will learn in the Gaudi Tours
We will not only learn about the monuments, but also about the history of the city's most famous architect, and his relationship with the industrial revolution of the time.
How long does it take to see the Gaudi Tours?
Barcelona, has 9 monuments of GAUDI, and if we move away we will find as many others, in Montserrat or in Castellar de Nuc'h. Indispensably, the Sagrada Familia and Park Güell, will involve us half a day, at least. The rest we leave to you.
By car or on foot
We can find tours with both options.
DISCOVER GAUDÍ'S MONUMENTS IN BARCELONA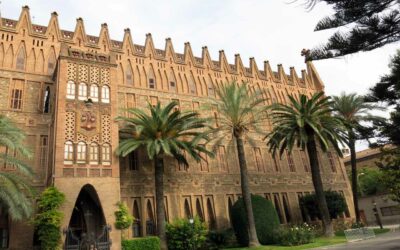 The Colegio Teresiano Barcelona is an isolated, elegant and sober building, with the air of an impregnable fortress, it is the surprising school...
PERSONALIZED AND PRIVATE TOURS FOR MONTSERRAT EXCURSIONS
ALL TOURS, CUSTOMIZED SERVICES FOR COMPANIES AND PRIVATE INDIVIDUALS