Private guide Girona
Tour the beautiful landscapes of Girona
The best way to tour Girona with a professional and safely around the province
Hire a private guide to tour the best places in Girona
Girona, capital of its own province in northeastern Catalonia, is a sublime medieval city with one of the last surviving Jewish quarters in Spain.
From Napoleon to the Moors 800 years earlier, many people have wanted to get their hands on Girona. The city has faced 25 sieges in its history, which explains why it is completely surrounded by high fortifications that are still standing.
If you're a Game of Thrones fan, you'll have seen Girona's dignified gray stone streets in season six when it appears as Braavos.
Benefits of a private guide Girona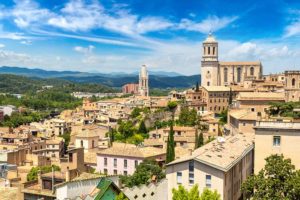 One of the biggest advantages of having a private guide during your travels is that you will usually have the same private guide for the entire trip or at least in each region/city. This means that if you spend 3 to 4 days in a city, the same person will greet you each morning at your hotel. This offers a wonderful opportunity to really delve into the history of a destination and get a more authentic look at its culture. Traveling with the same guide every day ensures that the stories you hear build on each other day after day because the guide knows in advance whether they will be with you for 2 days or 7.
Designing your itinerary with a private guide in Girona also offers the greatest flexibility in terms of scheduling. Finally, opting for a private guide offers the opportunity to build a relationship with this person. As more and more travelers request authentic travel experiences, this is truly one of the most important elements that will offer the most value for your investment. It can be difficult to find unique experiences and authentic conversations when your time in a new destination is limited. A private guide offers the perfect balance of authenticity in a limited period of time.
Private guide services Girona
How big are the group sizes at Barcelona Lands?
Our groups range in size from 5 to 20 people, depending on the type of trip, the transportation and accommodations used and the activities included. We rarely have groups of less than five or six people or larger than 16, and the average is 15 people plus the private guide.
Is a guided group tour of Barcelona Lands suitable for people traveling alone?
Yes, all of our small group tours are ideal for solo travelers. In fact, about 60% of our clients travel alone, so you are likely to have other solo travelers in your group. By being in a small group, you will have like-minded fellow travelers to share the experience with. Plus, your local leader will be available to share their expert knowledge of the destination and take the hassle out of traveling.
What types of group tours do we offer with private guide in Barcelona Lands?
We offer several types of group tours: discovery tours (complete 'classic' tours including cultural aspects, history, food, wildlife, etc.), hiking and trekking, biking, polar and family or corporate vacations, for small and large groups.
Barcelona Lands, your best choice in private guides
Take an escorted tour with us and you'll be joined by like-minded fellow travelers to share the journey with, as well as a local private guide with in-depth knowledge of your destination. Our expertly designed itineraries include once-in-a-lifetime experiences that take you to must-see highlights as well as hidden gems unknown to the typical tourist and make you feel like you've truly explored.
Our average group size is only 15; not so large as to be lost in a crowd of people, but large enough to find and make new friends. Or more private if you wish. Our trips are perfect for solo travelers looking for the fun and tranquility of traveling with a small group. Likewise, our trips suit couples, friends and families looking for stories to tell for a lifetime.
Our guides are fully certified and will offer you a unique experience in the city with small, large, family or corporate groups.
Contact us for personalized attention
Other private guides in Spain
TOUR GIRONA IN THE HANDS OF EXPERTS