TRANSFER MINIBUS TARRAGONA
Private minibus transfers in Tarragona
The best way to move safely around the province
Shuttles to all airports, hotels and any touristic or commercial point.
A port city on the northeast coast of Spain on the Mediterranean Sea is Tarragona, the capital of the province that bears its name. Almost always bathed in sunshine, this wonderful city is a mix of medieval alleys, Roman history and beach life. Tarragona has something for everyone to enjoy, so why wait? Book your Barcelona Lands transfers in Tarragona from Reus airport today and avoid the stress of cab queues.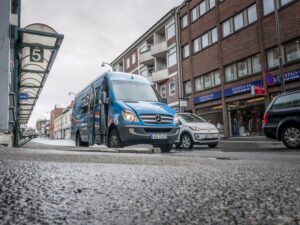 Anyone with a passing interest in history cannot fail to enjoy Spain's second most important Roman site. Tarragona is rich in ruins, including an amphitheater by the sea, and the city's medieval core is reputed to be the most beautifully designed in Spain. Steep walls place a protective arm around the cobbled streets, all crowned with a splendid cathedral and a vibrant food and drink scene makes this a pleasant and attractive place to spend time.
As with Barcelona's Las Ramblas in Tarragona, you'll find the Rambla Nova: 700 meters of long, wide avenue with the ubiquitous promenade in the center and stores and cafes on either side where you can spend your time browsing, relaxing and people-watching.
Book a transfer service in Barcelona Lands Tarragona reliable and with a fantastic value for money from Reus airport and enjoy the sea, the sun and the views of this old port of the city. If you want to know all our car rental options and extras you can enter here.
Advantages of hiring minibus service Tarragona
Minibus rental is convenient
If you and a group of people are traveling somewhere, whether it's to the airport or just on a day trip, renting a minibus may be the most convenient option. No one wants to be the designated driver, and when you hire a minibus, no one will have to be! With no more arguments about who has to drive or the need to travel in different vehicles, you can have a much more enjoyable and complete experience.
When you hire a minibus with driver, you don't have to worry about planning your trip; we will find the best route to make sure you get to your chosen destination on time, and since you are all traveling together, you are guaranteed that everyone will arrive together at the same time so you don't have to wait for your whole group to arrive. Also, when traveling to a new place, it can be stressful and expensive to find a place to park, with a private minibus rental you won't have to worry about this.
Minibus rental in Tarragona can save you money.
If you are heading out on a day trip, it can be very easy to spend a lot of money on different forms of public transportation during the day, especially if you want to visit many different places. Minibus rental
Renting a minibus in Tarragona can make your trip more enjoyable.
Traveling by minibus means that all members of your group are together instead of traveling separately in different cars or forms of transportation. With the stress of travel removed, it means you can sit back and enjoy the journey to your destination. Enjoy a journey with more legroom, more space for your belongings and a more sociable experience with your group.
Better for the environment
Renting a minibus as a means of transportation is not only convenient, it is also better for the environment. A minibus allows your group to travel together, which is much more environmentally friendly than traveling in separate cars, as it means less carbon emissions are released into the atmosphere. When traveling by bus or coach, your carbon footprint is the smallest of all modes of transportation, including train and air travel.
Our minibus service in Tarragona
Barcelona Lands offers minibus transfers from Tarragona airport to the city center and beyond. So, if you are traveling to this beautiful Catalan city and looking for a fast, comfortable and reliable way to get from the airport to your final destination, book a minibus transfer with us.
We offer services for family tours, operational, corporate and business transfers.
Private transfer types in Barcelona
Tailor-made private transfers in Tarragona
We offer all kind of transfers for what you need and when you need it (We work 24 hours)
Transfers from the airport to hotels or other vacation accommodations
Transfers from the hotel to the airport
Transfers from hotels or other vacation accommodations to other cities
Transfers from train stations
Transfers from hotels or other vacation accommodations to restaurants and nightclubs
Transfers to and from the hotel to visit different locations
Transfers including sightseeing tour in the city or area of your choice
Transfers with private guide
Transfers that accompany you all day at different stops
Transfers for events
Transfers for teams, clubs, associations and groups
The perfect vehicle for you
Mercedes/ E-Class
Mercedes/ S-Class
Van 7 Pax OR 1 Pmr + 4 Px
Minibus 8
Minibus 12 Pax
Minibus 15 Pax
Minibus 20 – 28 Pax
Bus 29 – 50 Pax
Bus 55 pax

PRIVATE TRANSFER IN SEDAN IN TARRAGONA
Private transfer of 4 seats in Tarragona
Private transfer adapted for 4 persons in Tarragona
Equipment, seats and luggage
Including air conditioning
5 Doors
5 Seats (4 available)
GPS

PRIVATE TRANSFER IN MINIVAN IN TARRAGONA
Private transfer of 8 seats in Tarragona
Private transfer of sports equipment in Tarragona
Private transfer of musical equipment in Tarragona
Private transfer of luggage in Tarragona
Include:
Air conditioning
9 seats (8 available)
GPS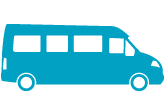 PRIVATE TRANSFER and MINIBUS TRANSFER IN TARRAGONA
Private transfer in Minibus of 12 seats in Tarragona
Private transfer in Minibus of 16 seats in Tarragona
Equipment, seats and luggage
Luggage compartment for luggage, sports equipment, musical equipment…
Air conditioning
PRIVATE TRANSFER BY BUS IN TARRAGONA
Private transfer by bus of 25 seats in Tarragona
Private transfer by bus of 56 seats in Tarragona
Equipment, seats and luggage
Air conditioning
Bathroom
Luggage compartment for luggage, sports equipment, musical equipment…
TAILOR-MADE TRANSFERS IN TARRAGONA