TRANSFER MINIBUS AIRPORT MADRID
Private transfer by minibus Madrid airport
The best way to move safely around the province
Shuttles to all airports, hotels and any touristic or commercial point.
For quick and hassle-free Madrid airport transfers with a wide range of vehicle options and great prices, check out our minibus transfers from Madrid-Barajas airport. Spain's capital is a bustling metropolis and the perfect destination for a city break. With a vibrant café culture, great nightlife and more tapas bars than you can imagine, Madrid has enough to keep visitors entertained for weeks.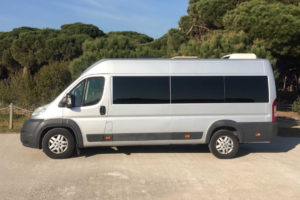 Our Madrid airport transfers can get you to the city center in as little as 20 minutes, and to the beautiful city of Toledo in just over an hour, and with a fantastic range of private transfer minibuses, there is the perfect transfer for everyone.
It may not traditionally have been the first port of call for vacation visitors to Spain, but Madrid is now stealing the spotlight from coastal destinations such as Barcelona and Malaga. With a cosmopolitan mix of trendy bars and cafes, world-class cultural attractions and unique Spanish flair, this capital is a fantastic urban getaway that is sure to draw you back time and time again.
Culture lovers will find a haven in Madrid's galleries and museums. If you're an art lover, you can't miss the Prado, which houses one of the largest collections in the world and features artists such as Velasquez, Goya and El Greco. Sports fans will want to head to the Santiago Bernabeu Stadium, the home of Real Madrid, and whether you take a tour of the stadium or soak up the atmosphere, it's sure to be a memorable experience for any soccer fan.
If you want to relax and unwind, Madrid has a wealth of parks and gardens to spend sunny afternoons. Retiro Park is a beautiful spot for a picnic, popular with locals and visitors alike. Or head to the city center and enjoy churros and chocolate in the city where they are said to have been created.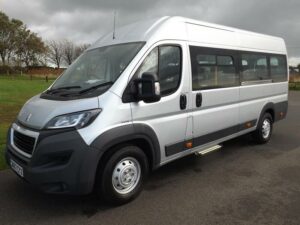 If you're staying in Toledo, you're in for a treat. This ancient hilltop city is often mentioned in "Best of Spain" guides and, for good reason, the cobblestone alleyways, picturesque squares and breathtaking views like the Toledo Bridge bring history to life.
Prices and availability will vary depending on when you travel, so use our fast and secure booking engine to find specific destination details and prices for your dates. All our vehicles are less than 5 years old, with air conditioning, very useful in the heat of a Spanish summer day. All our transfers have space for one suitcase per person and if you are traveling with small children and would like them to have a car seat, you should bring it with you.
If you wish to know all our transfer options and extras, please click here.
Our Madrid airport minibus transfer service
Our Madrid airport transfer service has a fleet of high-end Mercedes minibuses with the best performance. Count on us for your transfers to Madrid airport. Enjoy maximum punctuality, comfort and safety in all your trips to the airport, as well as an excellent treatment. A unique travel experience. When you return, we can pick you up at the meeting points in all terminals of the Madrid airport.
Maximum punctuality transfer minibus airport Madrid
Airport transfer services with maximum punctuality.
WIFI Service
An efficient WIFI service so that, if you wish, you can stay connected at all times.
Cell phone charger
In our minibus you can charge, free of charge, your mobile devices.
We have localization know-how
We shorten time and distances
Pay with the card of your choice
In our fleet you can pay with any card. Including payment with American Express.
Specific pick-up points
Our service has different pick-up points at Madrid airport so that you always know where to find us.
We offer services for family tours, operational, corporate and business transfers.
Other private transfers we offer in Madrid
You can see our transfers and transfers in Madrid, to any point you request. Some of the most popular transfers
PRIVATE TRANSFER MADRID TO BILBAO
PRIVATE TRANSFER MADRID TO SANTANDER
PRIVATE TRANSFER MADRID TO VALLADOLID
PRIVATE TRANSFER MADRID TO SEGOVIA
PRIVATE TRANSFER MADRID TO CUENCA
PRIVATE TRANSFER MADRID TO ALICANTE
PRIVATE TRANSFER MADRID TO VALENCIA
PRIVATE TRANSFER MADRID TO GRANADA
PRIVATE TRANSFER MADRID TO CORDOBA
PRIVATE TRANSFER MADRID TO SEVILLA
Tailor-made private transfers in Madrid
We offer all kind of transfers for what you need and when you need it (We work 24 hours)
Transfers from the airport to hotels or other vacation accommodations
Transfers from the hotel to the airport
Transfers from hotels or other vacation accommodations to other cities
Transfers from train stations
Transfers from hotels or other vacation accommodations to restaurants and nightclubs
Transfers to and from the hotel to visit different locations
Transfers including sightseeing tour in the city or area of your choice
Transfers with private guide
Transfers that accompany you all day at different stops
Transfers for events
Transfers for teams, clubs, associations and groups
The perfect vehicle for you
Mercedes/ E-Class
Mercedes/ S-Class
Van 7 Pax OR 1 Pmr + 4 Px
Minibus 8
Minibus 12 Pax
Minibus 15 Pax
Minibus 20 – 28 Pax
Bus 29 – 50 Pax
Bus 55 pax

PRIVATE TRANSFER IN SEDAN IN MADRID
Private transfer of 4 seats in Madrid
Private transfer adapted 4 seater sedan in Madrid
Equipment, seats and luggage
Includes air conditioning
5 Doors
5 Seats (4 available)
GPS

PRIVATE TRANSFER IN MINIVAN IN MADRID
Private transfer of 8 seats in Madrid
Private transfer of sports equipment in Madrid
Private transfer of musical equipment in Madrid
Private transfer of luggage in Madrid
Include:
Air conditioning
9 seats (8 available)
GPS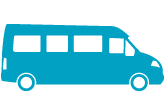 PRIVATE TRANSFERS and MINIBUS TRANSFERS IN MADRID
Private transfer in Minibus of 12 seats in Madrid
Private transfer in Minibus of 16 seats in Madrid
Equipment, seats and luggage
Luggage compartment for luggage, sports equipment, musical equipment…
Air conditioning
PRIVATE TRANSFER BY BUS IN MADRID
Private transfer by bus of 25 seats in Madrid
Private transfer by bus of 56 seats in Madrid
Equipment, seats and luggage
Air conditioning
Bathroom
Luggage compartment for luggage, sports equipment, musical equipment…
TAILOR-MADE TRANSFERS IN GIRONA
Tailor-made transfers in Girona