TRANSFER MINIBUS BARCELONA
All kind of private transfers in Barcelona
The best way to move in Barcelona
Shuttles to all airports, hotels and any touristic or commercial point.
At Barcelona Lands we offer local tours and multi-day excursions to your chosen destination. We also have the luxury vehicle and minibus rental service, offering a high quality service in Barcelona, ​​Madrid, Tarragona and its surroundings at affordable prices. We have years of experience offering transfers and transfers in Barcelona and Madrid.
In addition, tailor-made tours of Spain with a private guide.
Our team will be happy to help you plan your trip, taking into account even last minute requests. With our 24/7 live phone support, our customer service specialists can provide you with a reservation for the right vehicle at the right time for you.
BECAUSE WE ADAPT TO OFFER A SAFE AND ADAPTABLE SERVICE
Barcelona Lands assures you quality, punctuality and luxury trips with minivans for up to 8 passengers and luxury minibuses for up to 20 passengers.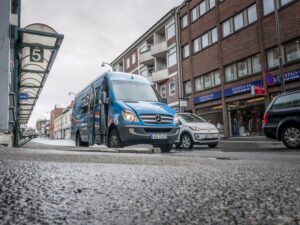 Every minibus we provide is regularly serviced and subject to careful checks before each booking, and is in perfect condition. This is to ensure your safety and comfort. We make sure that the interior quality and comfort levels are in perfect condition so that you can sit and rest in complete comfort wherever your travels take you. From our modern fleet of private air-conditioned minibus vehicles to our professional drivers, we will transport you to your destination in comfort with safety and punctuality as our number one priority. In addition to equipping all of our vehicles with GPS devices, all of our drivers are locally based, which means they know the best routes to get you to your destination efficiently and affordably. Focused on excellent customer service, our highly experienced staff will be available from your arrival through the duration of your private minibus transfer. Our staff will ensure quality, reliable and comfortable vehicle charter transportation for the duration of your trip
rIf you want to know all our vehicle rental options and extras, you can enter here.
Why book a Barcelona minibus transfer with BarcelonaLands?
Confidence
Professional drivers with great charisma No matter if your flight is delayed, we will wait for your arrival No surcharges for card payments due to delays Travel assistance policy (additional value)
Safety and space
Because we know that if you want to enjoy your trip you need to bring everything you need, that is why in our vehicles we have enough space if you come with family, friends or partner, your transfer will be comfortable and comfortable.
Price
At BarcelonaLands we offer the best prices on the market, we know that it is difficult to get a quality, comfortable, reliable and safe transfer from Barcelona to Girona, so we will make you a package with all these qualities at the best price.
Transportation for the disabled
Transfer service for the disabled, with safety and comfort for a safe trip and with the best guarantees on the market
24/7 follow-up
We have a service center 24 hours a day, every day of the week, in order for you to obtain clarity on the pick-up or arrival times. In addition to solving any questions you have.
WHY RENT A MINIBUS TRANSFER BARCELONA LANDS?
We have luxury minibuses at reasonable prices, long experience in the transport sector, personalized assistance in booking your bus and minibus, without intermediaries, contact 24 hours a day, 365 days a year, companies, agencies, schools, sports teams they trust us.
Covid-19 measures in our Transfer minibus Barcelona
Transfers and Transfer Minibus Barcelona
to measure Transfers to all airports, all hotels, aparthotels, apartments and any commercial or tourist destination. The vehicle of your transfer will cover all your space needs, for individual groups of 2/4 pax, medium groups up to 10 pax and larger groups with 50-seater buses. We have a fleet of vehicles for any transfer that is required. The distance or the customization of the route is not an impediment, and we can offer you any route at any time. If you want to know the applicable rates for a private transfer from Barcelona or Madrid airport, to the city center or other locations, enter here
Why a private minibus transfer Barcelona?
With a private transfer you will experience a more personalized service, where it will not be necessary to elaborate your route, handle foreign currency or feel anxiety about not being able to speak the language, everything is organized in advance.
How will my Transfer Minibus Barcelona be?
Your driver will be waiting to greet you at the agreed point. The driver will wait for you even if your flight or train has been delayed. Your driver will be identified and with a card with your name on it and will help you with your luggage. During the tour you can put the air conditioning to your liking and not worry until you reach your destination
Other private transfers we offer in Barcelona
You can see our transfers and transfers in Barcelona, to any point you request. Some of the most popular transfers
Private transfer Barcelona to Zaragoza
Private transfer Barcelona to Huesca
Private transfer Barcelona to Sort
Private transfer Barcelona to Girona
Private transfer Barcelona to Valencia
Private transfer Barcelona to Andorra
Private transfer Barcelona to Oropesa del Mar
Private transfer Barcelona to Lourdes
Translated with www.DeepL.com/Translator (free version)
Tailor-made private transfers in Barcelona
We offer all kind of transfers for what you need and when you need it (We work 24 hours)
Transfers from the airport to hotels or other vacation accommodations
Transfers from the hotel to the airport
Transfers from hotels or other vacation accommodations to other cities
Transfers from ports
Transfers from train stations
Transfers from hotels or other vacation accommodations to restaurants and nightclubs
Transfers to and from the hotel to visit different locations
Transfers including sightseeing tour in the city or area of your choice
Transfers with private guide
Transfers that accompany you all day at different stops
Transfers for events
Transfers for teams, clubs, associations and groups

PRIVATE TRANSFER IN SEDAN IN BARCELONA
4 seater private transfer in Barcelona
Adapted private transfer of 4 seats in Barcelona
Equipment, seats and luggage
Includes AC
5 Doors
5 Seats (4 available)
GPS

PRIVATE TRANSFER IN MINIVAN IN BARCELONA
8 seater private transfer in Barcelona
Private transfer of sports luggage in Barcelona
Private transfer of musical equipment in Barcelona
Private transfer of luggage in Barcelona
Includes:
AC
9 seats (8 available)
GPS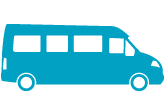 PRIVATE TRANSFER BY MINIBUS IN BARCELONA
Private transfer by 12 seater minibus in Barcelona
Private transfer by minibus of 16 seats in Barcelona
Equipment, seats and luggage
Luggage compartment, sports luggage, musical equipment …
AC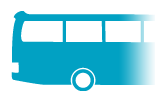 PRIVATE BUS TRANSFER IN BARCELONA
Private transfer by 25 seater bus in Barcelona
Private transfer by 56 seater bus in Barcelona
Equipment, seats and luggage
AC
WC
Luggage compartment, sports luggage, musical equipment …
TAILOR MADE SHUTTLES IN BARCELONA
Tailor made transfers in Barcelona